High cost performance model for general rotating machinery. SB-8000series are contributing the machinery firms for more than 20 years.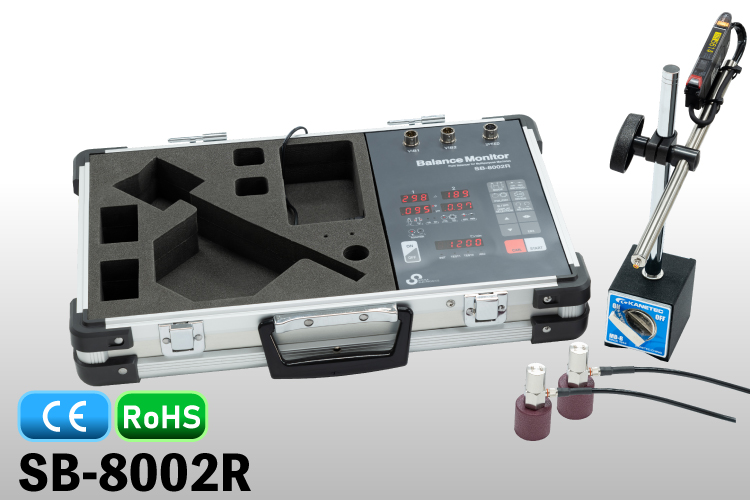 1.Integrated in attaché case
2.Display Measurement results of 2 planes on 7-seg LED
3.Easy operation by dedicated touch key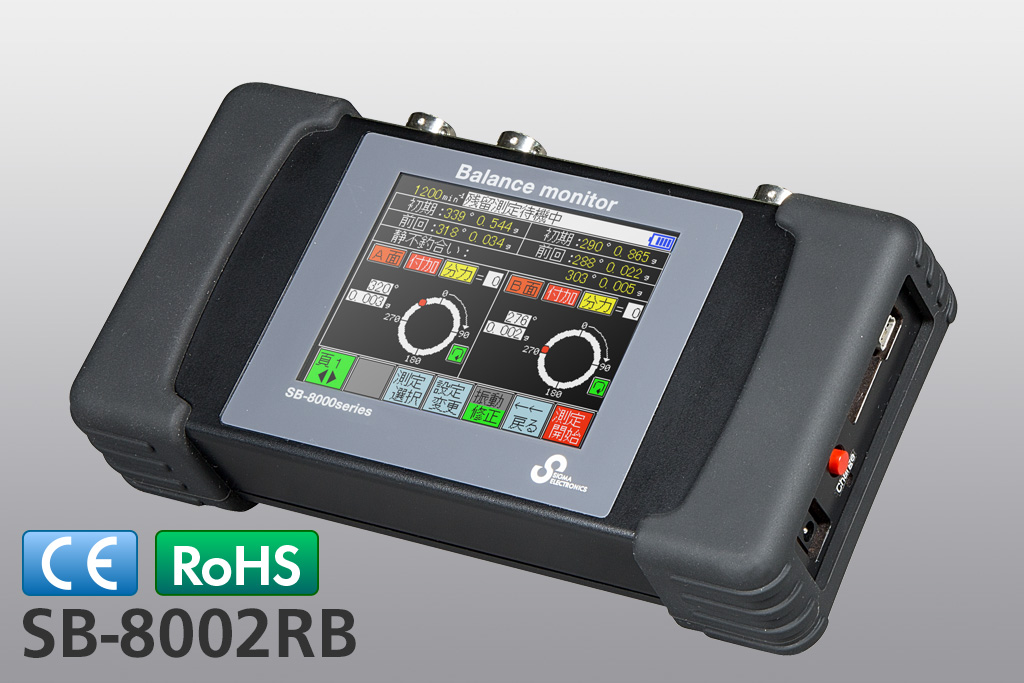 1.Ultra-compact handy type
2.Battery power can be used in factories or fields.
3.Touch screen color LCD
4.USBport, microSD card slot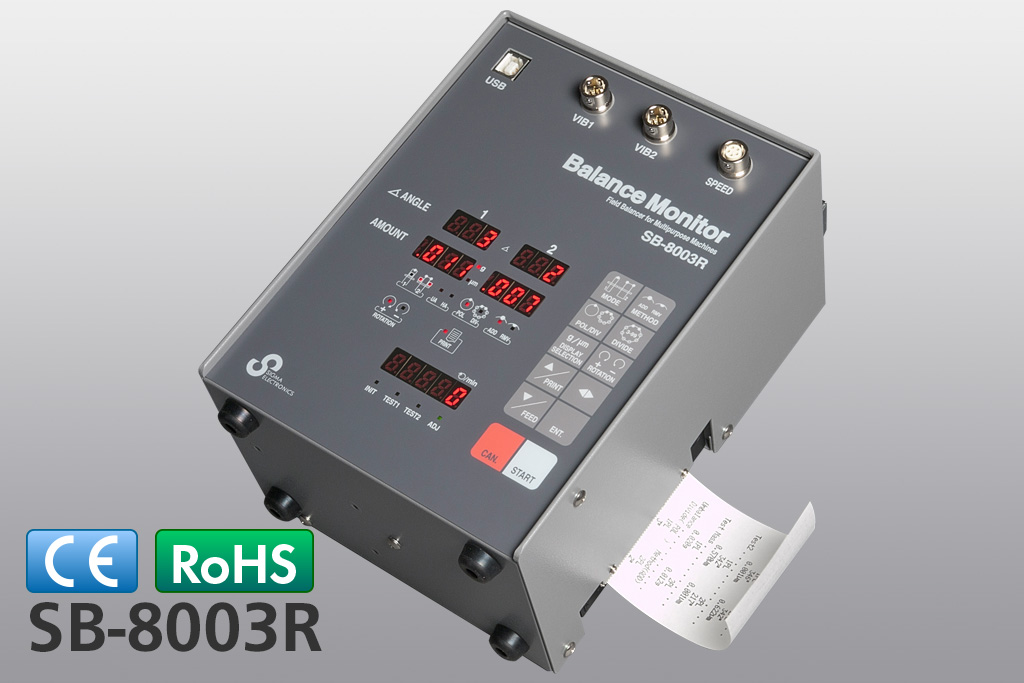 1.Measurement results can be printed out by built-in printer.
2.Measurement results can be transferred to PC.
3.Display Measurement results of 2 planes on 7seg LED
•NC Lathe, High-speed Die Machinery, High-speed Slicer, Dicing Saw, Internal Grinder, Woodworking Machinery, Crusher, Blower, Pump, Compressor, etc.
•Most of precision grinder as Surface grinder, Forming grinder, Centerless grinder, Cylindrical grinder (SB-8002RGB)
Features

High accuracy and efficient 1 and 2 planes balancing
•Field balancing at a fixed rotational speed
•Resolution of 0.001μm at up to 61,000min–1
•Resolution of vibration is 0.001µm.
Display Measurement Results of 2 planes
•Measurement results and procedure on 7-seg. LED.(8002R/8003R)
•Touch screen color LED and help function provides easy operation.(8002RB)
•Measuring range is selected automatically.
Simple operation
•Dedicated touch key and large 7-seg LED provides easy operation.(8002R/8003R)
•Selectable method of Polar coordinates or Components of unbalance vector
•Measuring response is 2x fast.(Compared to Sigma's products)
Balancing high-speed rotating machinery
•Multivariate analysis over 1,000min-1
Vibration analysis functions
•Unbalance vibration monitoring •Harmonic analysis
Documentation and archiving
•Measurement data can be printed out with mechanical dot printer.(8003R)
•With our utility software, the measurement results can now be transferred directly onto your PC as CSV files and MS-Excel reports.(8002RB/8003R)
Unbalance correction by balance weights arrangement -optional
•Unbalance can be corrected by arranging 2 or 3 balance weights on the circumference. This method is popular for balancing of grinding wheels.
•If this method is applied to general industrial machinery, balance correction will be easily done only by rearrangement of balance weights, weight selection and/or fabrication is not needed.
•SB-8002RGB:can be applied 1 plane(G) balancing.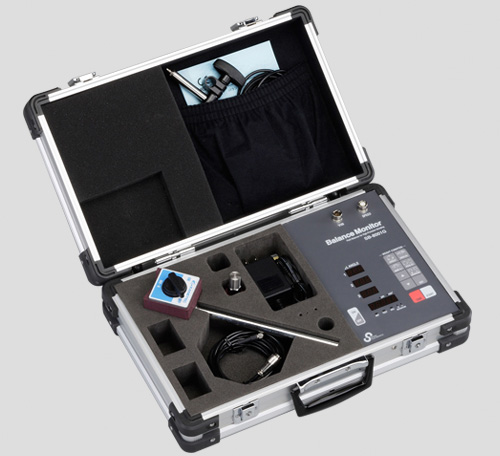 SB-8002R: Integrated in attaché case
Dimensions: 385(W)x120(L)×255(H)mm
Mass: Approx.5kg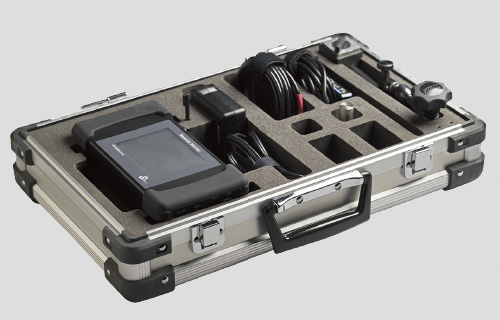 SB-8002RB: Instrument and all accessories are stored in an attaché case.
Dimensions: 385(W)x120(L)×255(H)mm
Mass: Approx.4.3kg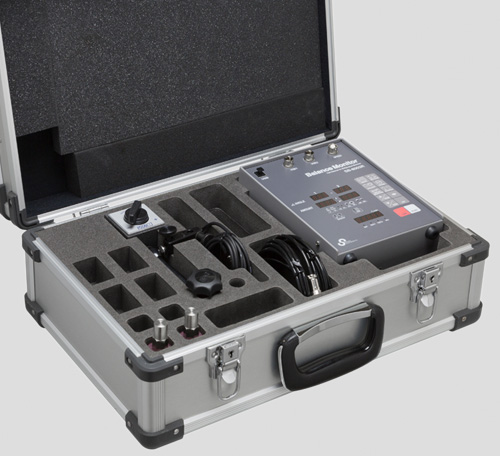 SB-8003R: Instrument and all accessories are stored in an attaché case
Dimensions: 385(W)x120(L)×255(H)mm
Mass: Approx.7.5kg
Field balancer is a portable measuring device which accurately can measure the unbalance amount and angle of actually operating rotating machinery.
Conventional field balancing is performed at fixed rotational speed, and Sigma's unique variable-speed balancing which prevents vibration at wide range of rotational speed (SB-7705series).
Sigma's Field Balancers are adaptable very wide range of rotational speed with high accuracy. (low speed model down to 60min-1, ultra-high speed model up to 400,000min-1)
Measurement range
Applicable Rotors
Rigid Rotor
Balancing Speed
180min–1 to 61,000min–1
Resolution of rotational speed display
1 min–1
Amplitude range of synchronized vibration
0.001 to 999 µm(at 1,200min–1)
Resolution of vibration
0.001 µm(at 1,200min–1)
Vibration input channel
2ch
Measuring method
Fixed-speed method
No. of Correction plane
1 or 2 selectable
Correction method
Polar coordinates
1° to 360°(angle resolution: 1°)
Components of unbalance vector
3 to 99
Correction weight
Add / Remove
Vibration analysis function
Unbalance Vibration Analysis
Available as standard
Harmonic analysis
Available as standard
FFT Analyzer
N/A
Overall amplitude monitoring
N/A
Time domain Waveform
N/A
Others
USB memory port
N/A
USB interface
N/A
microSD card slot
N/A
Printer
N/A
Indicator
7-segment LED (Angle position, vibration displacement, revolution)
LED lamp (Measurement condition, Operation display)
Power supply
AC adapter: AC100 to 240V ±10% 50/60Hz
*When use at outside of Japan, use AC adapter with replaceable supply cable.
Add suffix "E" for model name. Example; SB-8002GE
Environment
Temperature: 5 to 40°C, Humidity: 20 to 80?RH (Non-condensing)
Dimension of measuring unit
385(W) × 120(D) × 255(H)mm, (integrated in attache case)
Mass of measuring unit
Approx. 5kg (with main unit and all accessories)
Standard accessories
Vibration sensor
P12SC Sensitivity: 10pC/(m/s²)
fixing magnet: KM-025C (Holding force: 100N)
sensor cable: LN-041 (2.5m straight)
Rotation sensor
SFS-M1H (with 2m cable)
fixing magnet stand: MB-B (Holding force: 800N)
with manual and an adjust drive
AC adapter
US301210(DC12V 1A)
Circular protractor
822-0001(ø15cm)
Manual
Booklet
Optional
2-plane sensor
Vibration sensor:P12SC with cable:LN-041(2.5m)
V magnet for vibration sensor
NF0037
Extension cable for vibration and rotation sensor
2.5??5??10??20??30?